Dear Mme.,
Dear Mme., was created in collaboration with The Kronos Quartet as a commission to open the 25th Anniversary of The Next Wave Festival at Brooklyn Academy of Music.
Created and directed by Grindstaff and Sanko, the piece involved a 15-foot puppet (The Writer) made from recycled barn lumber with a marionette stage behind barn doors built into the large puppet. Three scenarios played out, inside the heart of the writer, to a score composed by Sanko and performed live by the Kronos Quartet.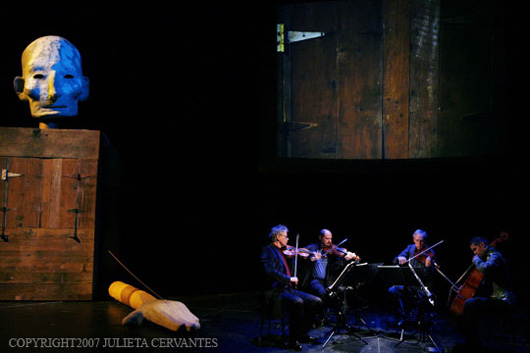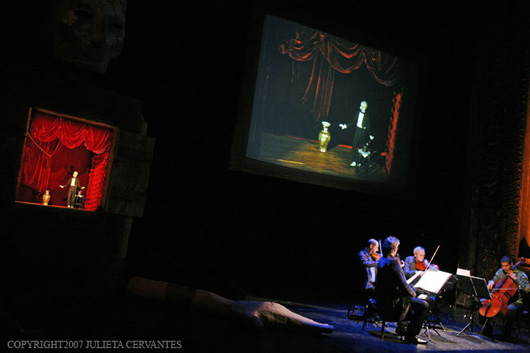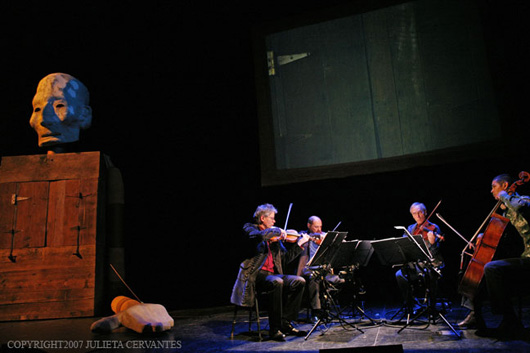 CREDITS
CONCEIVED BY | Jessica Grindstaff and Erik Sanko
MUSIC & PUPPETS | by Erik Sanko
SET DESIGN & ARTISTIC DIRECTION | Jessica Grindstaff
LIVE MUSICAL PERFORMANCE | The Kronos Quartet
PUPPETEERS | Matt Acheson, John Michaels, Randall Whittinghill, Erik Sanko
Dear Mme., was made possible with the generous support of the Jim Henson Foundation, Jerome Foundation and St. Ann's Warehouse Puppet Lab.